Hefei Sunrise Aluminium Pigments Co.,Ltd
ADD:No. 18 Jinhu Rd., Shuangfeng Development Zone, Hefei, Anhui, China
Tel : 400-999-2508
Fax : 0551- 66399118
E-mail : xuyang@ahxuyang.cn
Website : www.ahxuyang.cn
Sunrise, the leader of aluminum powder and aluminum pigment industry
With the rapid development of society, the coating industry has also been greatly promoted in the meanwhile. In such a large environment, more and more industries begin to pay attention to the functionality brought by coating products, such as anti-corrosion, covering and shielding ability, which requires coating products should be well controlled from the source and use more functional raw materials. It is known to all that aluminum pigments have high reflectivity to visible light, infrared light and ultraviolet light. It has excellent anti-corrosion performance, covering and shielding ability, and it could effectively prolong the service life. As the result, it has been widely used in the coating industry. If you want to know how could you choose aluminum pigment with superior performance and high quality, please read below.
The simultaneous development of four bases
The top of production capacity
According to the coating procurement network, there is a domestic large-scale organization of aluminum powder and aluminum pigment consisting of research and development, production and service, which can provide seven series of aluminum pigment products, including oil-based aluminum silver paste, water-based aluminum silver paste, resin coated aluminum silver paste, strip aluminum pigment, electroplated silver (mirror silver), Magic Silver (laser), aluminum silver powder, and so on. It is committed to solving the urgent needs of downstream customers and providing high-quality solutions. Its name is Anhui Sunrise group, which will be hereinafter referred to as "Sunrise group".
Sunrise group was founded in 2002. From the beginning of Huashan simple factory to the present, it successfully built four bases and made the output ranks first in the industry. Its Hefei production base covers an area of 32 mu, which has an annual output of 2500 tons of functional aluminum pigments. Its Tongling production base covers an area of 160 mu, with an annual output of 6000 tons of functional aluminum pigments. Its Lu'an production base covers an area of 130 mu, and the annual output is 10000 tons of functional aluminum pigments and its Inner Mongolia production base covers an area of 800 mu, with a designed annual capacity of 200000 tons of spherical aluminum powder and metal pigment.
Birthplace: Huashan village, Tongling
Hefei production Base of Sunrise
Tongling production Base of Sunrise
Lu'an production Base of Sunrise
Inner Mongolia production Base of Sunrise
In order to control the quality from the source, Sunrise group has entered the sphere aluminum powder field, and then the output has reached 50000 tons a year. Aluminum powder is not only the main raw material of aluminum pigment, but also widely used in solar photovoltaic cells, military industry, powder metallurgy, aerospace and other fields. Nowadays, the total annual production capacity of various slurry, powder and strip aluminum pigment products of Sunrise group is 20000 tons, ranking the first in the industry.
Workshop Corner
The common choice of coating industry
The high brand reputation
The products of Sunrise group, which have excellent luster and weather resistance, good corrosion resistance and environmental protection performance, could meet many requirements of the coating industry and has a well performance. As the result, it has been favored and recognized by many well-known coating enterprises which had been established long-term and stable cooperative relations with later.
Besides, the products of Sunrise group could be widely used in many industries: automobiles, household appliances, 3C products, toys, ships, printing, leather, chemical industry, metallurgy, refractory materials, composite materials, new building materials, anti-corrosion materials and so on. They play an extremely important role in the national economy and In order to adapt market conditions and downstream customers' needs, Sunrise Group focused on the "special product customization" service to create a comprehensive, high-quality, characteristic solution, so as to meet the different needs of different customers.
20 years of hard work: The forefront-comprehensive-strength, the steadily-increased market share.
After 20 years of hard work in the industry, Sunrise group has always focused on the R & D, production and sales of aluminum pigment and aluminum powder that it has developed into a leading enterprise in the domestic aluminum powder and aluminum pigment industries, which serves more than 50 countries and regions in the world such as Southeast Asia, Europe, America and Africa. With its outstanding flexible customization capability and increasingly perfect delivery capability, Sunrise has won the trust and cooperation of more and more customers in the world.
As an old brand pigment enterprise, Sunrise group knows that innovation is the only way for enterprise to develop and the soul of enterprise development. Therefore, They attach great importance to R & D work, invest a large amount of R & D expenses every year, persist in creating value for customers through continuous technological innovation, and strive to build core competitiveness with R & D strength. With the joint efforts of all Sunrise employees, the market share of Sunrise has been steadily increased.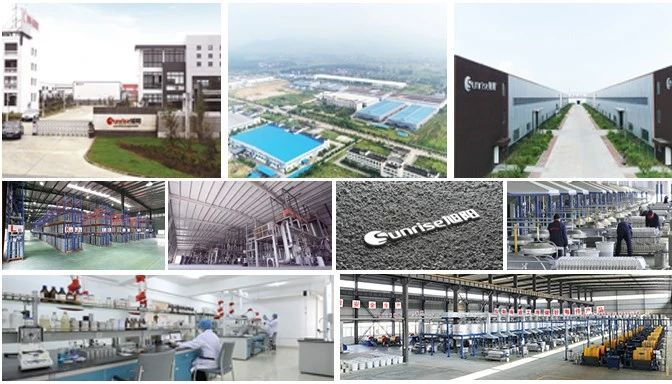 Now the "14th five year plan" is being implemented, which is both a challenge and an opportunity for the pigment industry. As a leading enterprise in the domestic aluminum powder and aluminum pigment industry, Sunrise group will continue to make efforts in the field of new materials and strive to achieve greater breakthroughs. Sunrise is committed to build the largest aluminum powder and aluminum pigment production base of the world, and to become a world-class new material enterprise. Using the next 20 years, Sunrise aim to produce the best aluminum powder and aluminum silver paste in the world.